Well, this morning Nintendo Power magizine has given Metroid Prime 3: Corruption a perfect score of 10 out of 10! Why is this such as a big deal, and why am I posting about it here? Well, Nintendo Power has been reviewing games for almost ten years now, and only one other game has ever gotten a 10 from them. And that game was Resident Evil 4 for the Nintendo Gamecube (Wii version got a 9.0 from NP). Not even Legend of Zelda: Twilight Princess, my pick for the #1 game of all-time got a 10 from Nintendo Power, it got a 9.5. Metroid Prime 3 getting a 10 really shows how amazing this game must be, and is already far surpassing my expectations of it. For Nintendo Power's full review of Metroid Prime 3: Corruption, see the scanned image below. If you are viewing this from the newsletter, then you'll have to go to GamersCastPodCast.com/news to see it. Well, here it is:
(click the image to enlarge it and see the full review)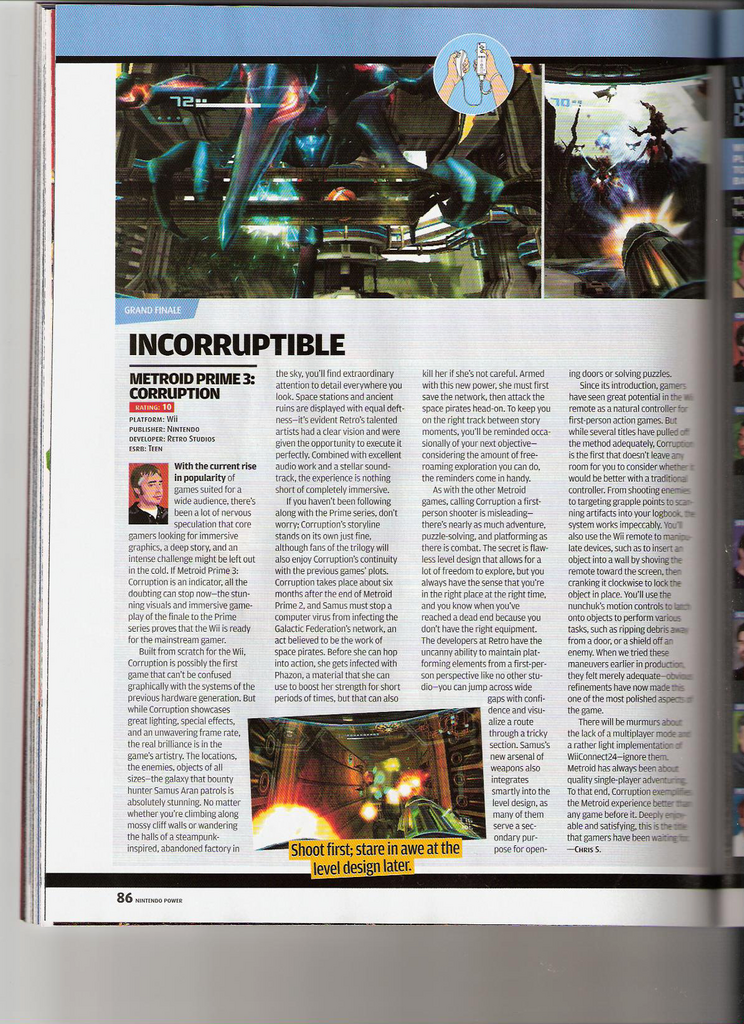 Get the GamersCast Newsletter! All of the quality news you would find here can be sent directly to your e-mail's inbox or Wii's Message Board the instant news is posted here! Simply send an e-mail to GCnewsletter@gmail.com or register GCnewsletter@gmail.com into your Nintendo Wii's Address Book to subscribe!